In recent years, art has taken on a different meaning for me, a deeper dimension, through my own transformative path. My future artistic projects will build on this.
Thanks to the art of felting, to which I have devoted myself passionately for years, I was able to immerse myself more and more deeply in the feeling and power of transformation. I began researching the surface (2D), experimented further with surfaces towards relief and the infinite possibilities of complex forms (3D) And finally in recent years I have immersed myself even deeper into dimensionality, into the transformation force by means of the felting process.
From the transformation of a material to the profound transformation via the material.
Today, for me, art is a bridge between the visible world and the invisible.
In this sense, art is a tool to accompany, stimulate and integrate transformation processes.
All news about the artistic projects of heART inspiration can be found on my blog.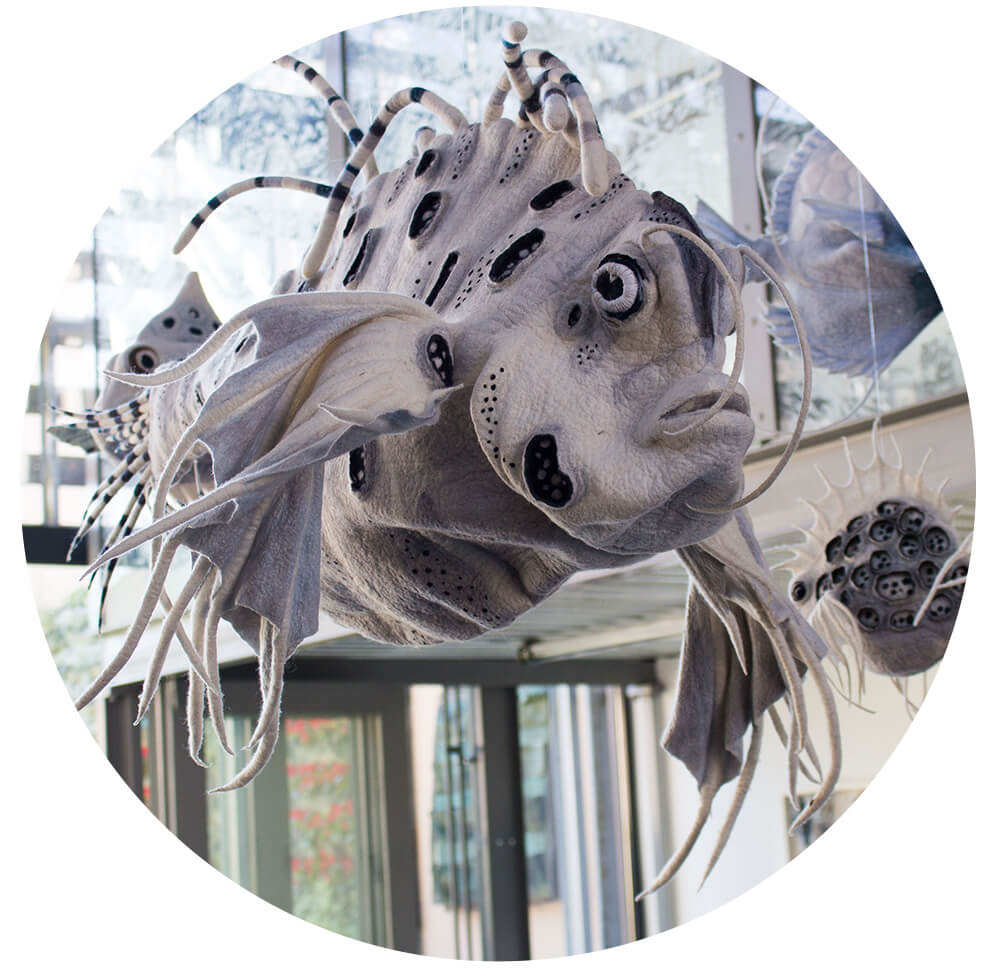 Felt Moments with Maria – Seeds for a new world
Graines pour un nouveau monde
The idea came in connection with the global situation caused by the coronavirus and the associated lockdown.
My idea: to use the power of our own creativity and the transformative power of art to positively create new things, to anchor ourselves in positivity, to transform our fears, worries and insecurities into wonderful desires for our future earth. So many people around the world found themselves isolated at home. I wondered, how can I help to nurture some positivity, lightness and community in the world? Many seeds were created, full of wonderful intentions for a new world that can grow and thrive.
Connection was created, people got to know each other who would never have come together. For many, it was a moment of joy, relaxation, and relief in this difficult time. For some, these meetings helped them to reconnect with their own creativity, with their own creativeness, because they felt blocked by these circumstances. Reconnecting ourselves with our senses helps us to feel ourselves in the moment and to act from that place, instead of just reacting to the outside. That is why artistic activity makes so much sense, especially in difficult situations. I hope to continue to inspire with this idea. Anyone who likes it can contribute to their own seed, felt, and send it out into the world as a wish.
Discover the album with all the creations here.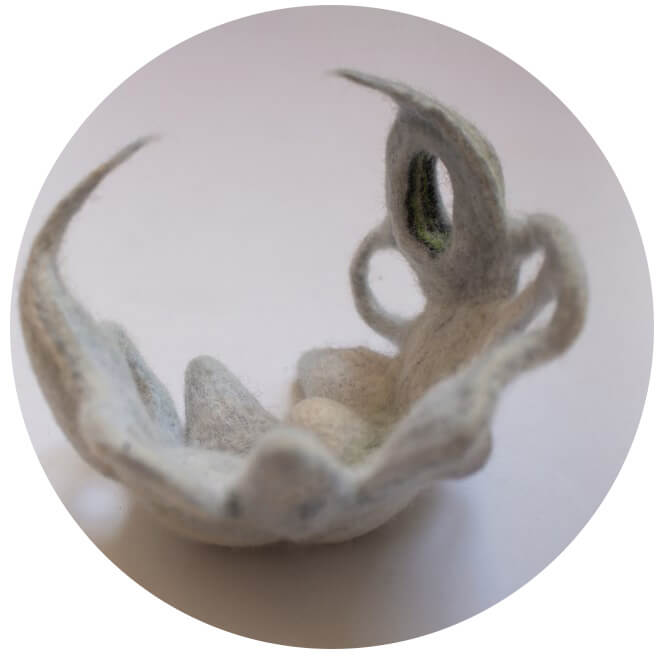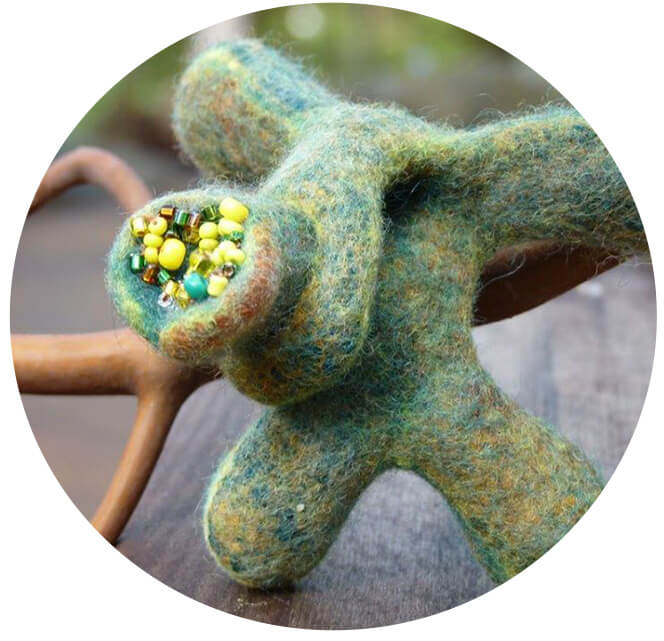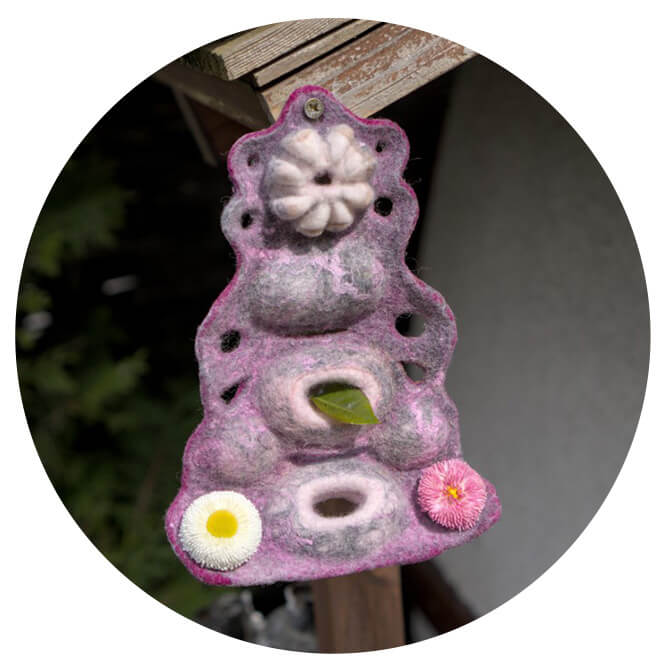 Examples of the achievements of participants in the "Seeds for a New World" course
The Magic of Transformation
I offer monthly online meetings in which we use the transformative power of felt technology for our own growth. My own experiences and insights in dynamic art therapy and energy work will meet here with my passion for felt art. Magic may be created!
An exciting adventure trip to unfamiliar terrain where there is so much to discover!
I draw from my many years of experience with felting and my own developed techniques for unlimited creativity, as well as the knowledge of the transformative and healing qualities of artistic processes, not least from my own experience, my trainings and from my individual accompaniments in art therapy and energy work.
The topics of the respective course will crystallize shortly before the date.
I invite my participants to write their own topics. I then select the topic that can generate the most growth potential for the whole group. I fully rely on my intuition!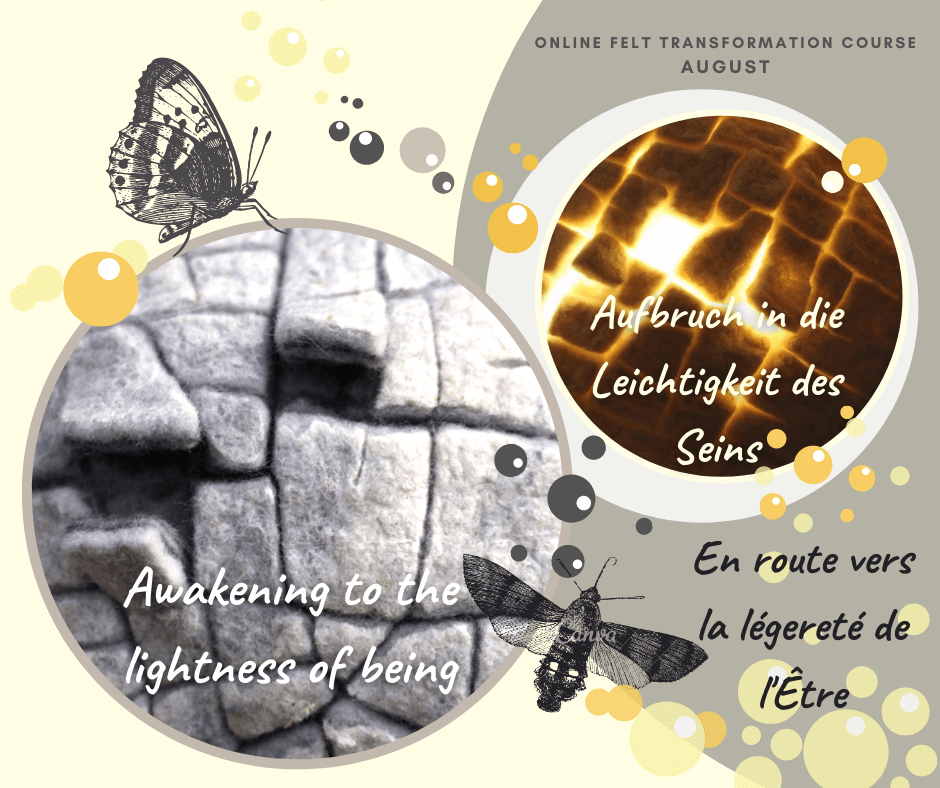 A course lasts about 2 1/2 hours. It is important to me that in the end we can take enough time to exchange information about our experience.
You can reserve courses individually or buy a 3 class pass. The courses will be organised with the App Zoom. You will receive the link to my Zoom Meeting room at the latest 24h before the course. And you will receive an email with information about materials before the course.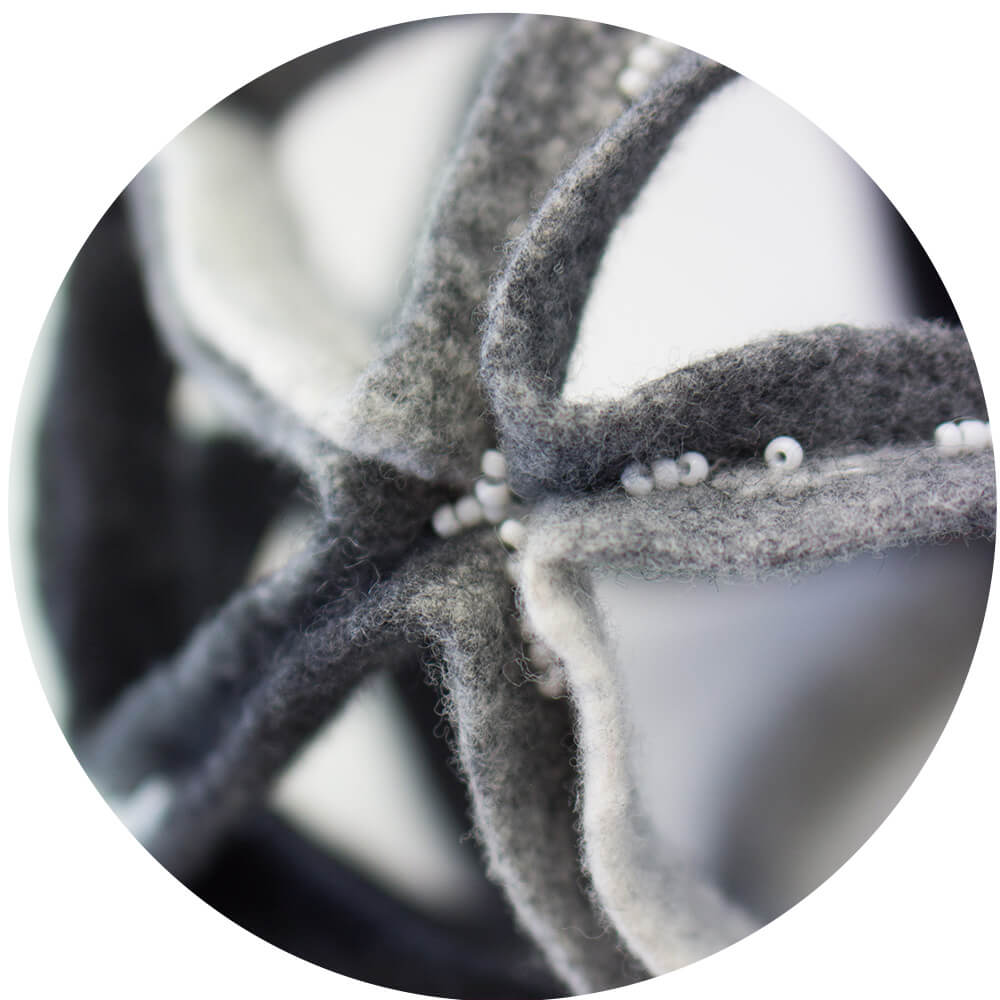 Interested in heART transformation's artistic projects?
Subscribe to the newsletter here.
It gives me pleasure to work with people and pass on my knowledge. For several years I have been teaching my own developed felt techniques in different countries in Europe and America. Even though I no longer lead purely technical courses, I still offer the opportunity to explore the depth and limitlessness of this technique together with me.
It makes even more sense for me today to convey this technique, as an additional enriching dimension of art and felt technique is added: the transformative power.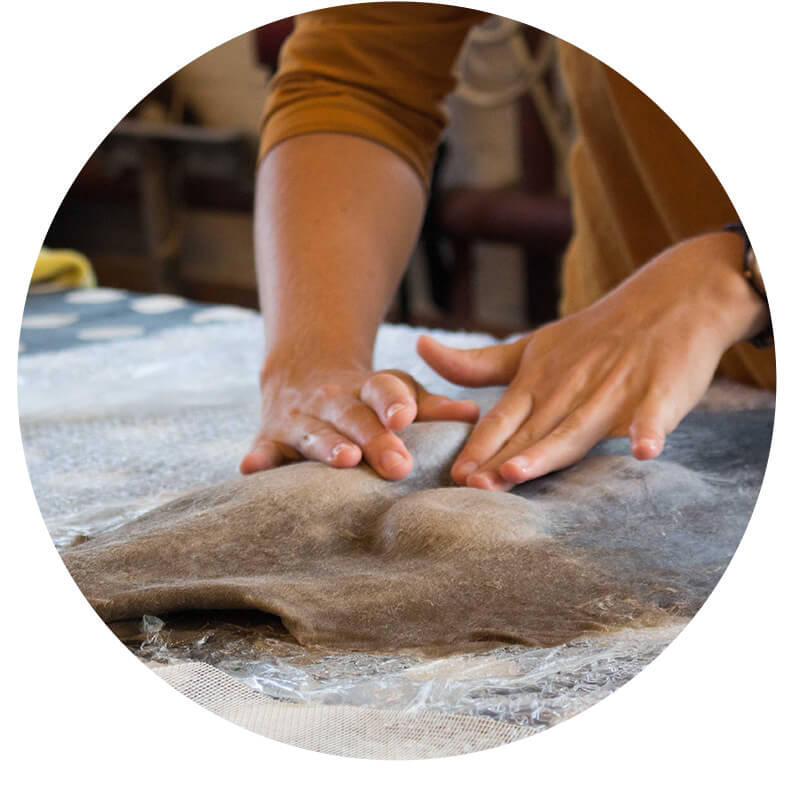 My offers:
Are you an art therapist yourself or are you also working in the company of people and you are interested in using this transformative technique?
You are an artist and you are already working with the felt technique, but you want to get even more into your creative power, develop even more creativity?
You don't know the felting yet, but you feel attracted by the transformative and healing quality of the technique?
Then let's talk about it! There are different ways of learning.
Make an appointment to discuss custom training and learning opportunities.