Artist – Practitioner in craniosacral energy and body work and practitioner in dynamic art therapy
Born in Germany, I have lived and worked in the South of France, near Toulouse, since 2005.
I worked full-time as a felt artist from 2006 to 2018. I exhibited my work regularly in Europe and held professional training courses, courses and workshops in felt techniques in many countries (Europe, USA, Canada, South America).
I have won several prizes, including the "Young designers" prize from the "Ateliers d'Art de France" in 2013 with my monumental wall hanging "Cycle".
Through my artistic activity, I was able to immerse myself deeply in the creative, boundless and transformative process. I realized that we use the same creative energy to shape our lives.
Even at a young age, I was fascinated by the influence that art can have on body and mind.
I myself have been able to experience the effects and power through various artistic forms of expression (drawing, painting, sculpture, felting, singing, writing, dancing…), as well as witnessing it in my students.
In 2017, I decided to turn to art therapy.
At the Institut "Cassiopée", near Paris, I completed a qualification in dynamic art therapy. The interdisciplinary and holistic approach appealed to me enormously.
However, I still lacked a piece of the puzzle and so in 2019 I started training in Craniosacral energy and body work "CranioPowerClass – Cranio 5D" with Henrike Baumgartner, in Austria. This training revealed my own potential and opened up completely new perspectives for me. I was able to experience another deep transformation myself. This form of craniosacral energy work reconnected me with my own strength and clearly showed me my new way:
My passion today is to accompany others so that they can make their lives their masterpiece!
What if we looked at our lives from a slightly more artistic point of view?
Shaping our own lives with the ingredients of "Everything is possible"?
Joy, curiosity, lightness…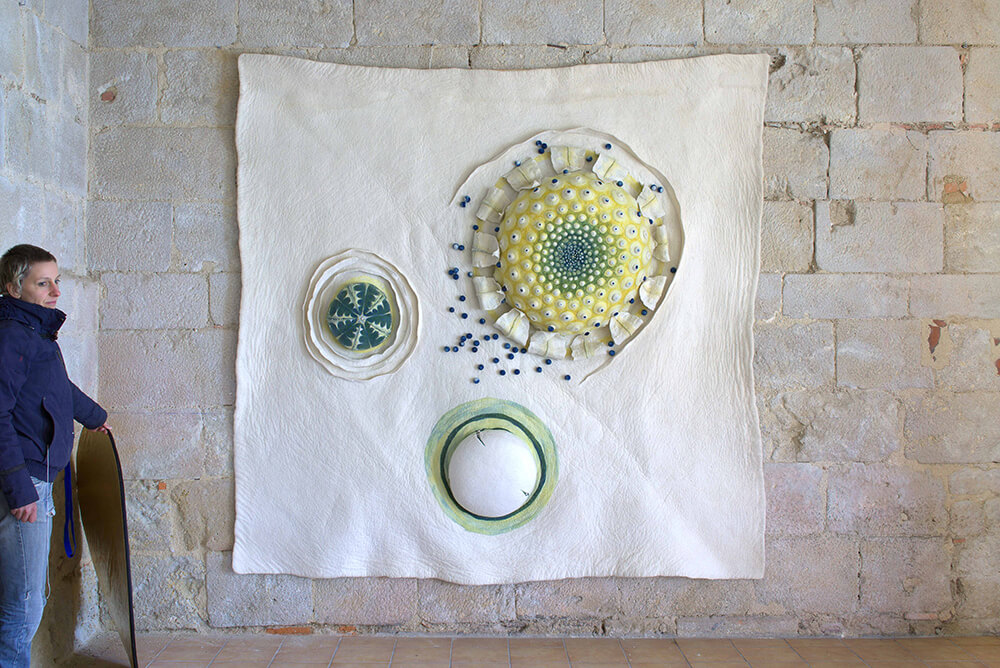 Cycle
(2011, sheep's wool, dyed and felted by hand)
Theme: Creation, Transformation, Metamorphosis
The work reflects the idea of the natural cycle that is omnipresent. The life cycle, the evolution of the mind but also the creative process.
A seed sprouts in fertile soil. It grows, transforms, buds… and finally blooms, like the essentials.
It brings Newness and Beauty. With sowing, the cycle becomes complete. Sowing transmits, develops, renews, adapts, improves, evolves… Sprout, grow, mature, evolve, always in search of fertile soil…
I found the seances I had with 

Maria

 to be extremely helpful on both a physical and mental level. We worked on specific themes and issues that I had been confronted with.
One time in particular the stress I was dealing with had given me severe pain in my head and neck. Maria was able to help resolve this in a session.
Claire