Réservation des évènements en ligne
Réserve ta place pour l'atelier mensuel « La Magie de la Transformation – Feutrage intuitif » ou offre une carte cadeau à tes proches pour leur faire découvrir ces ateliers.
Découvre également le cours en ligne sur 6 semaines « heART transformation – le Cours » !
ATELIER EN LIGNE MENSUEL
La Magie de laTransformation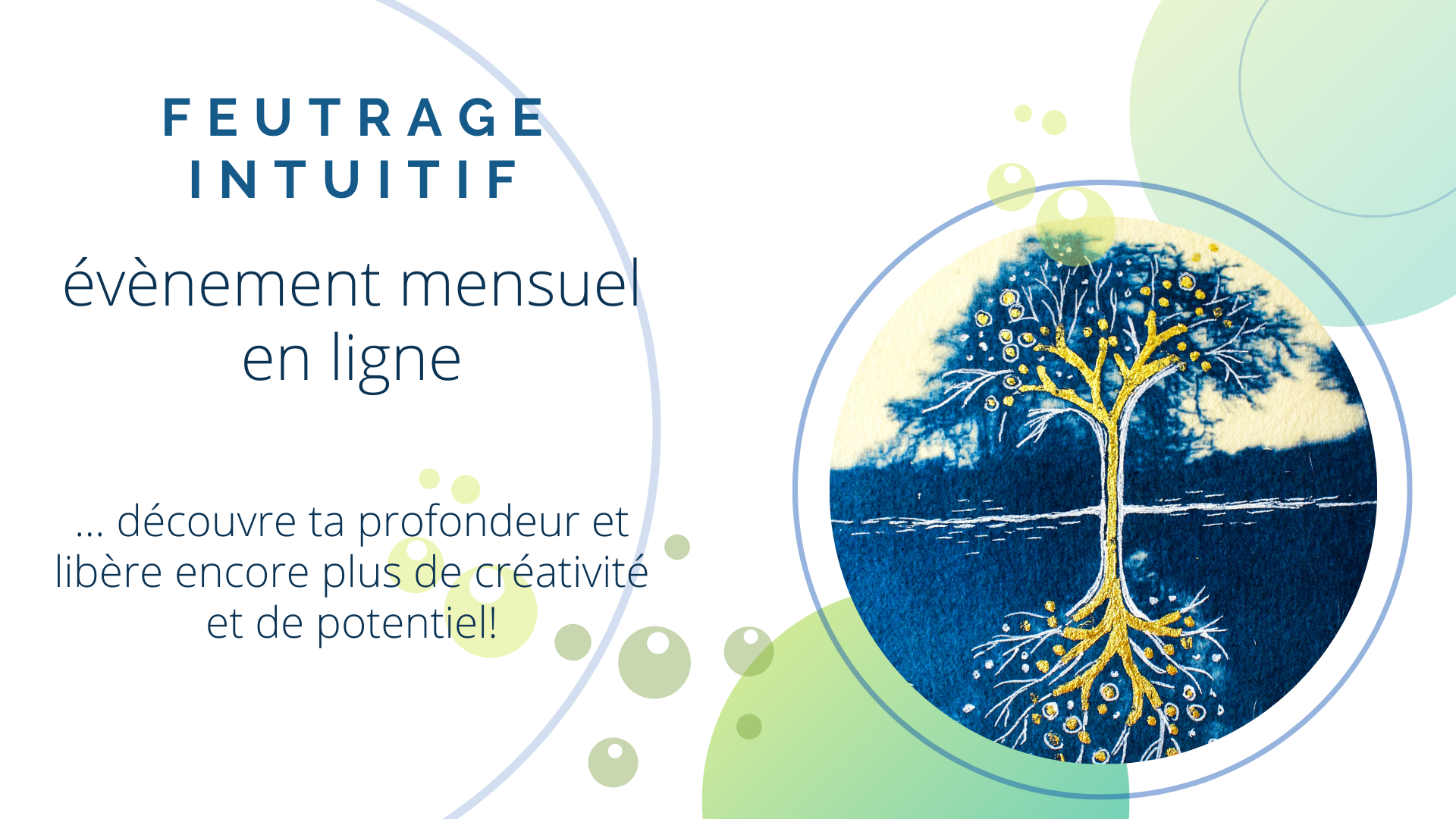 « La Magie de la transformation – feutrage intuitif »
Envie de découvrir le feutrage d'une manière très intuitive et expérimentale ?
Aimerais-tu expérimenter et explorer le pouvoir de transformation et de guérison à l'aide de l'art du feutrage et des couleurs ? 
Si tu veux développer encore plus ton intuition, ton sens de l'expérimentation, explorer la subtilité des couleurs et des matériaux avec tes sens, si tu veux utiliser l'art comme remède pour te sentir plus stable, plus ancré, connectée, légère, flexible et centrée, cela peut être un cours pour toi. 
Pendant le feutrage, nous entrons en contact avec notre propre puissance créatrice – notre propre pouvoir transformatif. Pendant ses séances nous entrons en dialogue avec la matière pour aller à la rencontre de notre profondeur. C'est par la laine en toute douceur et sécurité que nos mouvements intérieurs, nos thèmes remontent à la surface pour se rendre visible.  La laine nous invite à jouer et à expérimenter afin de changer en légèreté nos états intérieur ou juste à les laisser se mettre en mouvement, comme la laine qui danse entre nos mains. 
Magie pure! 
Le tarif est de 53€ pour une séance de env. 2h / 2h30. Le nombre de places est limité à 6 personnes par cours !
Si tu n'est pas sure, que ses cours sont fait pour toi, j'ai crée un tutoriel, ou tu as la possibilité de découvrir et de tester ma manière de travailler!
Des compétences techniques sont-elles nécessaires?
Je te conseille de ne participer que si tu as au moins des connaissances de base du feutre. J'utilise toujours quelques-unes de mes techniques avec un potentiel créatif illimité, mais je ne les expliquerai pas en détail lors des séances, car il s'agit ici de l'expérience sensuelle, de la profondeur. Si tu n'est pas sure d'avoir assez de compétence, tu peux commencer par mes petits tutoriels. Je t'invite à les découvrir ici. Tu peux aussi me contacter !
Réserve ta place pour un prochain cours dans le calendrier ci-dessous. 
Jan
Fév
Mar
Avr
Mai
Juin
Juil
Août
Sep
Oct
Nov
Déc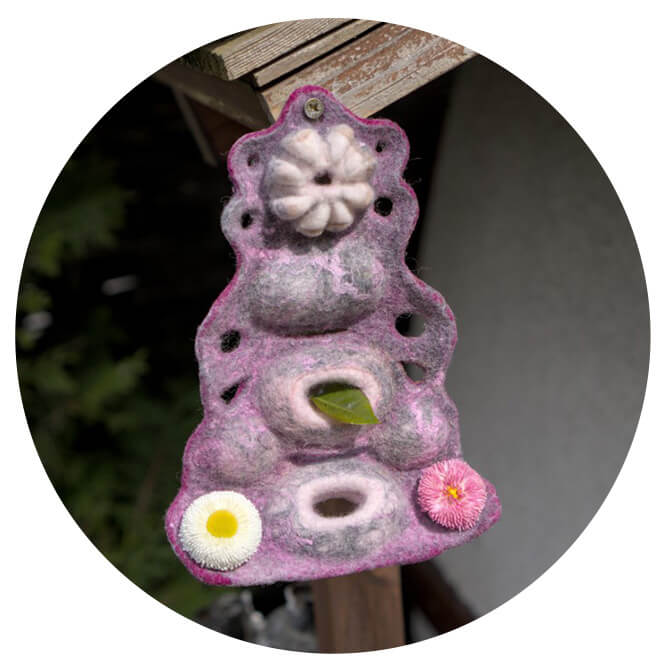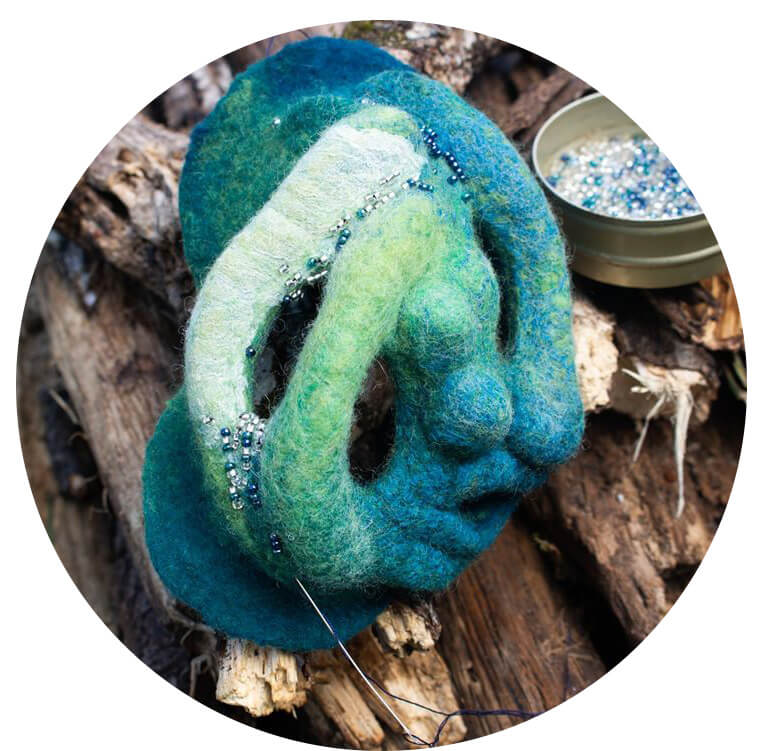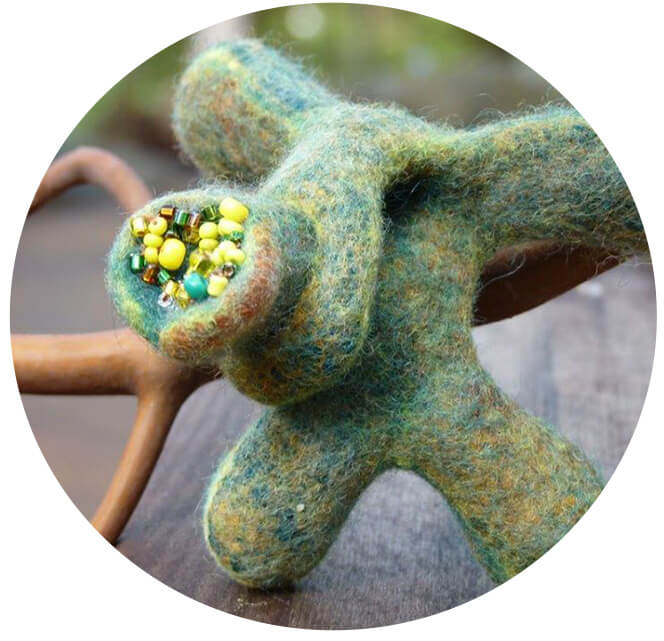 Offrez une carte cadeau pour faire découvrir la magie de la transformation à vos proches :
Carte cadeau 1 atelier mensuel : 53 Euro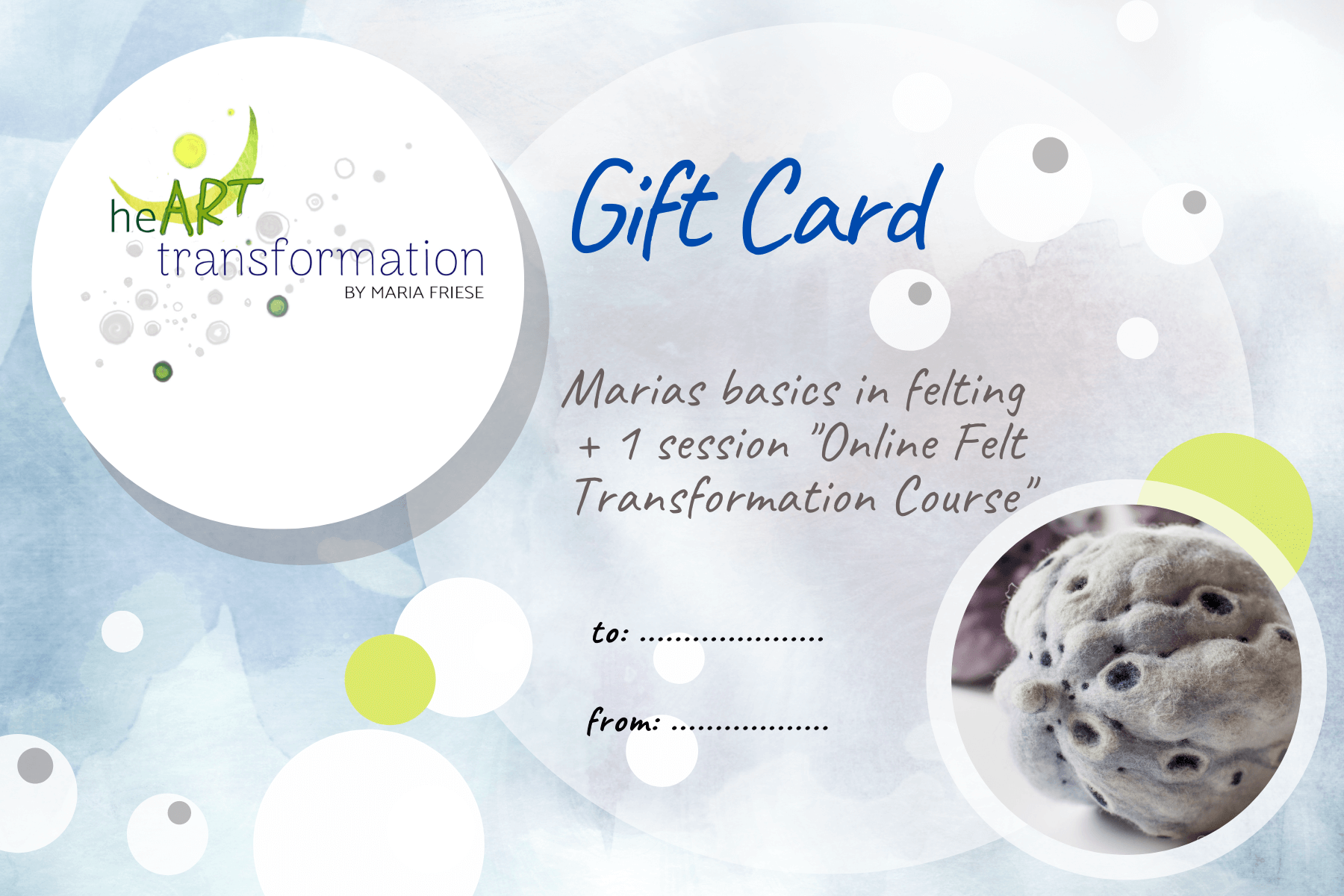 Réservation pour Carte cadeau 1 seance
Online Workshop
Over 6 weeks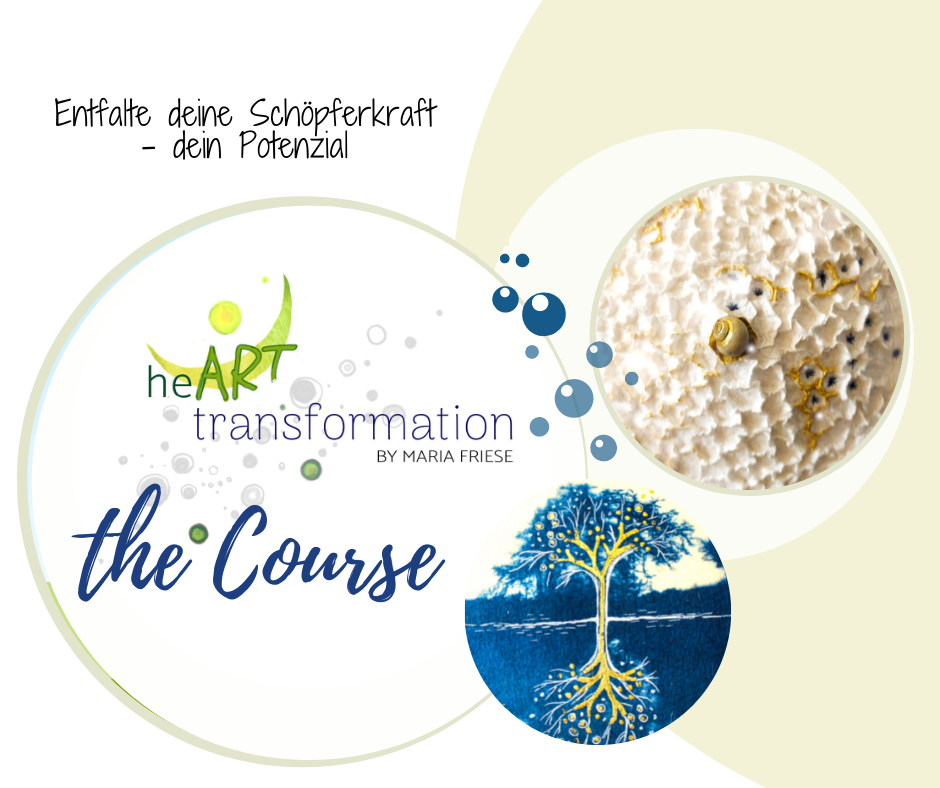 heART transformation – the Course
What is creativity? Where does it come from?
Do you feel limited in your creativity? Are there areas in your life where you don't feel creative at all?
I myself always felt very creative in my artistic work. I felt connected to this unbounded source of inspiration and creativity. I felt a stream of energy flowing through my whole body, which pushed me to create.
On the other hand, for a long time I felt completely non creative in so many of the things in my daily life that I had to do and to manage. I perceived these things as a tiresome obligation. Longtime art was for me the only creativity I perceived, until I realized that my whole life is actually my biggest art work and masterpiece to work on.
Limiting beliefs about ourselves, high expectations and fears can block our natural and steady flow of creativity.
The point is that we all are creative at any time and at each moment. With each thought actually, we create our own life and future. This course is about becoming increasingly conscious about the essence of the creative force and the power of our mind and our inner attitude. So that we recognize how powerful we actually are!
In six weeks and ten steps, we will dive deep into this topic and bring out our creative treasures. We use artistic tools and exercises for this purpose. Making art is helpful in different ways. We can use the process as our "mirror", as well as for stimulation, accompaniment and for the integration of transformation. Art is also a good way to involve our mind, our ego, to convince it to think and to function in new ways.
In this course we will mainly work with watercolor techniques during the online meetings. Concerning homework, everyone can work with whatever inspires them. Felt techniques are welcome, as well as any other technique. In this course it is important to me, to accompany each participant on their own path, to motivate and support individual resources and tools.
In this course you have the possibility to:
• Identify what is limiting your creativity to become more creative and fullfilled in every area of your life
• Transform limiting beliefs and attitudes
• Learn exercices to connect to your primal force and primordial trust to connect to your source of universal creativity
• Allow your self to expand
• Become magnetic for what you desire in life
• Find out what is your creative gift to the world.
You get:
• Online meetings with me and the group
• 1 one-on- one distance session with me: this is a possibility to work on your personal and individual theme and blockages
• Special facebook or whatsApp group to stay connected and to exchange during the whole duration of the course
• artistic tools and guided exercices during our online meetings
• the possibility to work with your favorite art tools for your homework in between our meetings (felting, painting, drawing, sculpture, clay, writing, whatever…you decide how much time you want to spend, at least 20 min. a day)
Price of the 6-week workshop: 440 Euro
To keep a high quality accompaniment the spots are limited! We work in a small group of max. 8 participants!
Dates of online meetings:
Meetings take approximatly 1 ½ to 2 h
January 22, 2021 at 5 p.m. (Paris time)
January 29, 2021 at 5 p.m
February 5, 2021 at 5 p.m.
February 12, 2021 at 5 p.m.
February 19, 2021 at 5 p.m.
February 26, 2021 at 5 p.m.
Réservation pour A course in creativity
Online Creativity Workshop over 6 weeks, starting Mai 11,2021 (german course) and August 19 (english course).